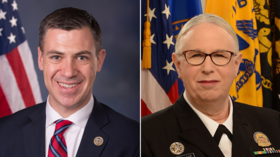 Twitter has suspended the official account of Indiana Rep. Jim Banks (R) on Saturday for acknowledging the biological reality of newly appointed rear admiral Rachel Levine.
The Department of Health and Human Services had announced Tuesday that former Assistant Secretary of Health Levine would be sworn in as the department's "first-ever female four-star admiral."
After Surgeon General Vivek Murthy celebrated Levine's appointment as "the first female four-star officer to serve in the U.S. Public Health Service Commissioned Corps" on Tuesday, Congressman Jim Banks criticized the description.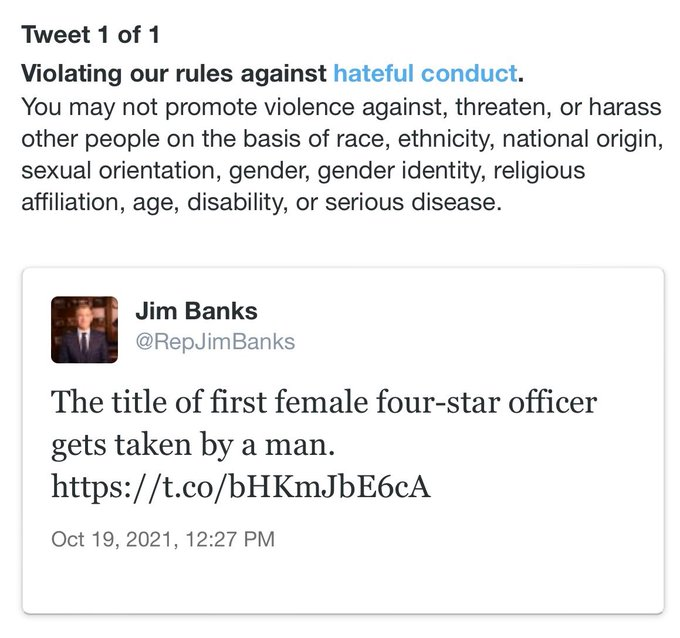 "The title of first female four-star officer gets taken by a man," Banks, a Navy veteran who served in Afghanistan, said.
Twitter's ban notification to Banks claimed that calling a man a man "violate[s] our rules against hateful conduct," adding that his biologically accurate tweet "promotes violence."
Banks released a statement following his suspension, warning that Big Tech can easily "silence" the American people if it can silence a sitting U.S. congressman.
"My tweet was a statement of fact. Big Tech doesn't have to agree with me, but they shouldn't be able to cancel me," Banks said from his personal account.
"If they silence me, they will silence you. We can't allow Big Tech to prevent us from telling the truth. When Republicans take back the House next year, we must restore honesty to our public forums and hold Big Tech accountable," he added.
In a follow-up tweet, he added, "Calling someone that was born and lived as a man for 54 years the first 'female' four-star officer is an insult to every little girl who dreams of breaking glass ceilings one day."
Levine said in a statement following his swearing-in that hopefully more trans individuals will be appointed to high-level government positions.
"This is a momentous occasion and I am pleased to take this role for the impact I can make, and for the historic nature of what it symbolizes," Levine said. "May this appointment be the first of many like it as we create a more inclusive future."
Levin first came into the public eye during the Covid outbreak in 2020 as Pennsylvania's health secretary when it was revealed he moved his 95-year-old mother from a nursing home despite official guidance from his own department urging nursing homes to admit "stable" coronavirus patients.